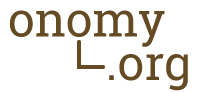 Onomy.org was the first stand-alone tool created by the Media Ecology Project. It was designed to facilitate small working groups who wish to share annotations across software platforms. It is a web service that allows collaborative development of taxonomies and folksonomies for use as controlled vocabularies. Onomy.org supports hierarchal categories and definitions, term suggestion and approval, and export in HTML, RDF, and JSON, and SKOS formats. It is used by scholars across the country as part of the Media Ecology Project, has been a key feature in a successful NEH grant application, and has played a role in courses taught at Dartmouth, Columbia, and elsewhere.
Onomy in the Media Ecology Project Context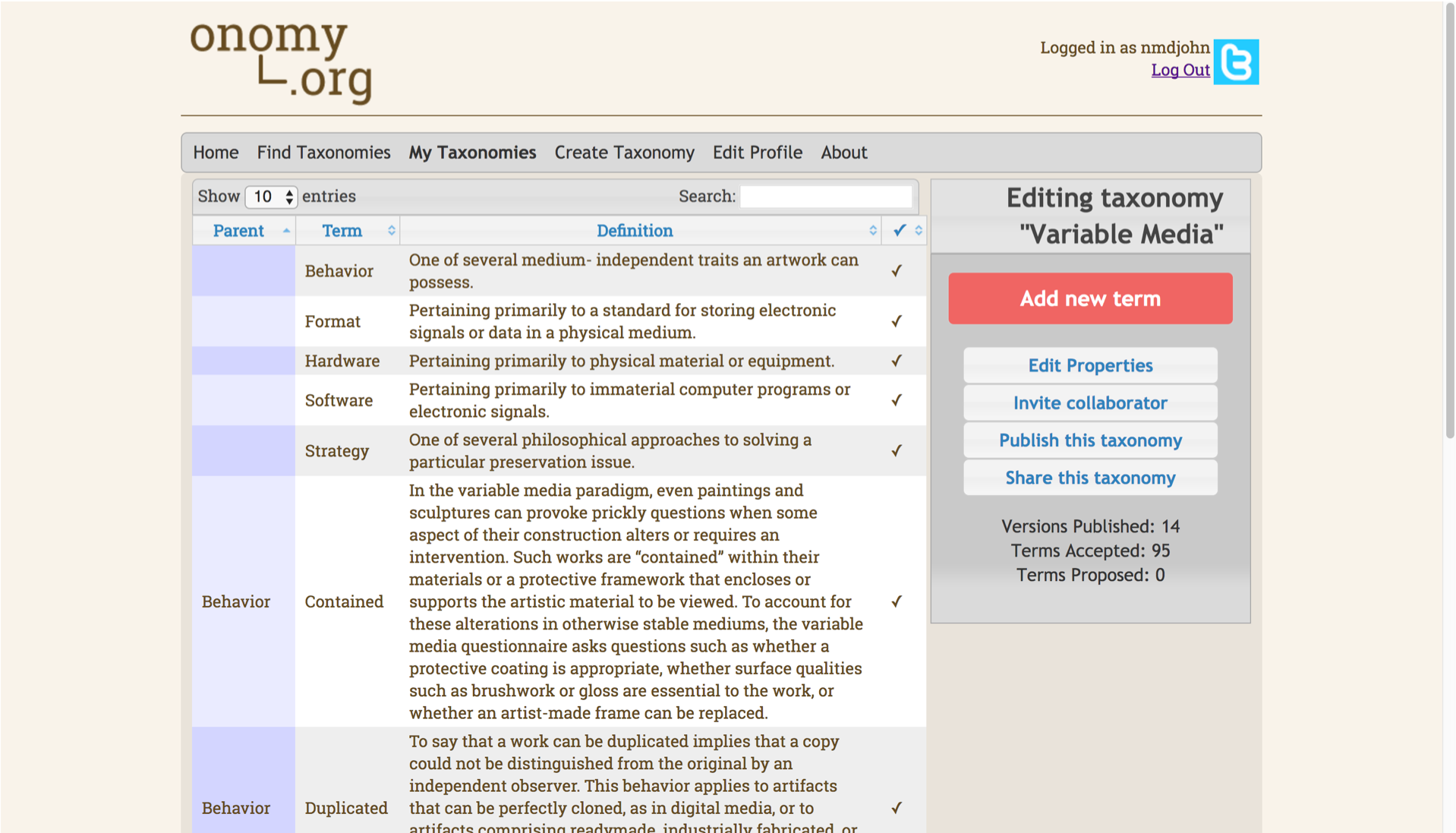 Shared vocabularies are a simple but integral aspect of the distributed toolset the Media Ecology Project is enabling. While full-text annotations are useful, full-text presents difficulties for certain computational analysis techniques like entity identification and topic analysis. Tags based on a shared controlled vocabulary enhance metadata and prepare annotations for a variety of network analyses in different software packages, increasing their value as a flexible knowledge resource. By creating a shared vocabulary that exists independent of any one analysis tool, Onomy.org creates a resource that allows many different tools to speak the same language and behave as a true read/write ecology across platforms.
MEP has both modified 3rd party software platforms to allow them to share annotations and integrated Onomy with our own annotation interface, Waldorf.js. The initially-supported platforms, Mediathread and Scalar, were chosen because they both focus on adding commentary to and displaying externally-linked media files rather than uploading files to a closed content management system.
Mediathread is a Django-based classroom platform developed by the Columbia Center for New Media and Teaching. It is designed to allow students to collaboratively annotate web-based media files and integrate those files with essay text. When integrated with the MEP Metaserver, Mediathread provides an environment that supports small group analysis of video content that can be dispatched to other platforms for publication and reuse.
Scalar is a semantic web-publishing platform developed by the Alliance for Networking Visual Culture. It presents a simple platform for authors to create online books built from linked pages containing integrated text, media, and annotations. Each page is a semantic object than can be assembled in a variety of non-linear paths within the book or accessed through an API for external reuse in a variety of rich-media interfaces.
Waldorf.js is the client half of MEP's Semantic Annotation Tool. It is a jQuery plugin that can be added to any HTML page with only a few lines of code. Once installed it searches the page for HTML5 media tags and dynamically wraps them in an interface that supports annotation of time- and geometrically-delimited media fragments. Waldorf.js was developed in collaboration with VEMI Lab to ensure that accessibility was forefront in its development and that playback of annotations is compatible with screen reader software.
The MEP metadata loop connects different components of the MEP toolset to each other and to host archives. For example, one instance of the metadata loop workflow might see a user find a video on the Library of Congress web site. They hit a bookmarklet that grabs the URL of that video and imports it into Mediathread, where they create annotations describing the video. When those annotations are made public, Mediathread updates the MEP Metaserver with them. Other users in Mediathread or Scalar that query that URL will be able to load their annotations and the Library of Congress can harvest them to update their own records on the file. Onomy.org plays a key role in facilitating the exchange of annotations by providing a persistent URI from which each application in the loop can download a set of vocabulary terms used to tag annotations.
Onomy.org was created with the generous support of the Neukom Institute at Dartmouth College.