NEH Research and Development Grant for MEP!

Proud to announce we have received an NEH Tier 1 Research and Development Grant from the Office of Preservation and Access to build a Semantic Annotation Tool (SAT).
The two-year grant begins Jan 1, 2016, and is also supported by Dartmouth College in myriad ways.
Special continued thanks to The Department of Film and Media Studies, Deans of Faculty and of Arts and Humanities, The Committee for Scholarly Innovation and Advancement, The Office of the Provost, The Neukom Institute, The Leslie Center for the Humanities, The Dartmouth College Library, and Information Technology Services at Dartmouth!

Prof. Mark Williams (Department of Film and Media Studies at Dartmouth) will work with MEP architect Dr. John Bell (Dartmouth ITS), central to the grant proposal, in cooperation with the Virtual Environment and Multimodal Interaction Laboratory (VEMI Lab) at The University of Maine.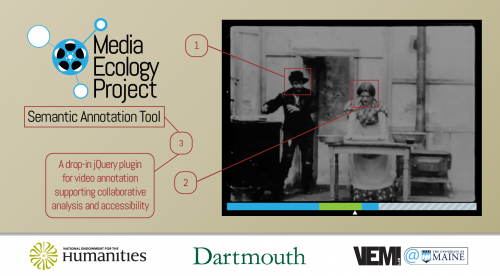 The Media Ecology Project's Semantic Annotation Tool is an end-to-end open source video annotation system with two parts: a drop-in jQuery plugin for marking up videos on the web and a server that aggregates and distributes annotations of online videos. Intended uses include collaborative close reading of video for humanities research, simplified coding of time-based documentation in social science studies, enhanced impaired vision accessibility for media clips on web sites, and many others.
Such a crucial shot in the arm for MEP! Grateful to Senator Jeanne Shaheen's office for the congratulatory phone call but especially to our participating archives for their continued support.  #‎NEH, #‎NEHturns50, #‎NEHPresAccess