Media Ecology Project Archival Film Fest May 18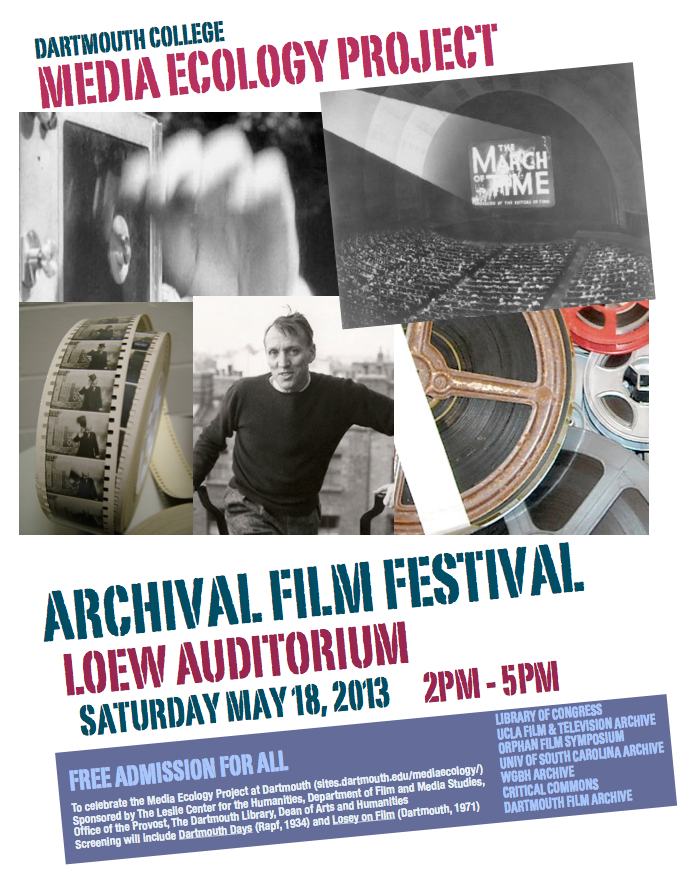 The Archival Film Festival will serve as a capstone public celebration of The Media Ecology Project symposium at Dartmouth.
The festival will be Saturday, May 18 at 2-5pm in the Loew Auditorium of the Black Family Visual Arts Center at Dartmouth College.
The festival will feature materials from The Library of Congress, The UCLA Film and Television Archive, The Orphan Film Symposium, The University of South Carolina MIRC Archive, the WGBH Archive, Critical Commons, and our own Dartmouth Film Archive.
Among the films to be screened will be Dartmouth Days (Rapf, 1934), directed by alum godfather of film studies at Dartmouth Maurice Rapf, and Losey on Film (Fauer, 1971), a film made during alum Joseph Losey's residency at Dartmouth in 1970.
Deep appreciation to The Leslie Center for the Humanities, The Office of the Provost, The Dartmouth Library, the Dean of Arts and Humanities, The Neukom Institute, and the Department of Film and Media Studies.
Hope to see you at the festival!